Caring Ambassadors understands we are living in complex times. Please take a moment and
Breathe
What we do
A Few of Our Services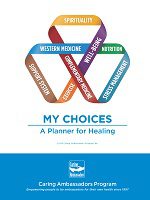 MY CHOICES© is a tool to help you recognize and act upon what you can control in your health care journey to achieve optimal healing, regardless of the illness you face. It contains elements of a guide book, health planner, journal, and activity book to help orient you to and plan for the journey ahead.
Lung Cancer Choices 5th Edition
can be a useful tool for anyone who is caring for someone with lung cancer, but its primary focus is on the patient. This book is suitable for both the newly diagnosed and those who have been living with lung cancer for some time.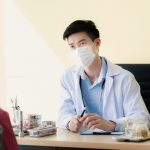 One of the most important and proactive steps that you can take in your health care journey is assembling a health care team that will nourish and support all aspects of your health – with you at the center. Our tool takes you through a series of questions you may want to ask your health care team as you navigate the journey ahead. We believe knowledge empowers – we hope that these lists of questions will help you understand your diagnosis and some of the health care options available to you.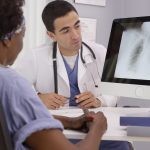 Lung cancer can cause a great deal of uncertainty, but there is a team of highly trained professionals whose job it is to help you with these difficult times. The number of people you meet and the information you receive about therapy can be overwhelming and confusing. These questions will help guide your conversations with your health care team and help you gather the information you need to receive the best possible treatment and supportive care.
The BIGG ELIMINATION TRIBUTE PROJECT is a module-based training to help establish replicable frameworks for HCV prevention & education using harm reduction strategies. The overall goal is to build attendees' capacity, confidence, and knowledge to integrate responsive hepatitis C (HCV) screening, testing, linkage-to-care/cure, and support programs into existing infrastructures.
What Drives Us
Our Mission
To improve the lives of patients and communities by empowering and educating them to be advocates for their own health.
Get involved – become an advocate!
Advocates are vital component in the fight against any disease The efforts and voices of many people are needed to make strides for those whose lives are affected by any challenging health conditions. There are many different levels of involvement. Get Involved with Caring Ambassadors today.
Weekly News Update
My Choices© Update


Week Ending March 8, 2021
Covering Pain: Study Shows Better Way to Pay for Pain Management
"Jon Porter describes the people under his care as heroes: They fight daily battles against debilitating backache, arthritis, fibromyalgia, systemic inflammatory conditions and chronic headaches, braving unrelenting pain to care for loved ones and manage their lives. For years, these individuals fought their pain with traditional medical weapons — opioid medications, steroid injections, surgeries — bringing short-term relief and, for some, addiction, depression and anguish. Still, Porter says, they persevere in quests for respite, dignity and joy."
7 Ways to Strengthen Your Spine
"The spine is an amazing and well-engineered machine. Comprised of 26 bones—not to mention 120-plus muscles, approximately 220 ligaments and more than 100 joints—it protects the spinal cord, keeps the body upright and allows the body to move in virtually every direction. It does all of this with gravity constantly bearing down upon it."
Does a vegan diet lead to poorer bone health?
"The vegan diet is trending currently. How this type of diet affects health is the subject of scientific studies. In a new study from the German Federal Institute for Risk Assessment (BfR), the bone health of 36 vegans as well as 36 people following a mixed-food diet was determined with an ultrasound measurement of the heel bone."
Why Are Certain Foods so Addictive?
"Are there certain foods you just can't eat one (or one bite) of? Maybe you've been known to polish off a bag of chips in front of the TV, or always find yourself going back for a second slice of cake at a party."
5 signs your body is missing key nutrients
"The body is amazing. Millions of chemical signals are sent throughout the body each day to keep you functioning normally. The body also does a great job providing you, the host, messages about your health as well. Specifically, it tells you when you might be missing something essential from your diet."
There's No Real Reason to Eat 3 Meals a Day
"Your weird pandemic eating habits are probably fine."
Lack of exercise linked to depression risk amid pandemic
"Exercise has for long been recommended as a cognitive-behavioural therapy for patients of depression, yet new evidence suggests that the Covid-19 pandemic changed the nature of the relationship between physical activity and mental health."
New discovery explains antihypertensive properties of green and black tea
"A new study from the University of California, Irvine shows that compounds in both green and black tea relax blood vessels by activating ion channel proteins in the blood vessel wall.  The discovery helps explain the antihypertensive properties of tea and could lead to the design of new blood pressure-lowering medications."
What is COVID-19 brain fog — and how can you clear it?
"As a cognitive behavioral neurologist, I've been hearing from many individuals who are complaining of "brain fog" after infection with COVID-19. So I thought it was worth discussing exactly what COVID-19 brain fog is, and some things to do that might help clear it."
Personalize Your Plate for National Nutrition Month
"Happy National Nutrition Month®! No matter what your age or life stage, Nutrition.gov has resources to help you personalize your plate with healthy choices. Build a healthy diet that meets your unique needs and preferences with these three tips:"
Acupressure Mats Are Trendy, But Are They Worth the Hype?
"Unfortunately, there's not a lot of scientific research to back up the claims of acupressure mats, but experts have seen anecdotal evidence that suggests these mats can be a beneficial recovery tool for runners and have the potential to reduce foot injuries by increasing foot strength and stability."
10 Natural Ways to Boost Your Energy
"A year of living with the COVID-19 pandemic has left us all fatigued. Between the relentless news, having to be extra vigilant whenever we walk outside and the monotony with no end in sight, this past year has been a massive energy zapper. (And that's for those of us lucky enough to be able to work from the relative safety of home; the exhaustion of frontline workers and those navigating the healthcare system due to COVID illness is even greater.)"
Food as Medicine: What It Means and How to Reap the Benefits
"You know your diet plays a huge role in weight and energy, and even your mood. But did you know it could help save your life, too?"
Hepatitis C News
Week Ending March 8, 2021
Can You Take Naltrexone If You Have Hepatitis C? What to Know
"Naltrexone (brand names Revia and Vivitrol) is a medication used in the treatment of alcohol and opioid use disorders as part of a medication-assisted treatment (MAT) program. This means it may be used in combination with counseling and behavioral therapies as treatment for these substance use disorders."
Safety of immune checkpoint inhibitors in cancer patients with hepatitis C virus infection
(https://www.healthline.com/health/hepatitis-c/hepatitis-c-skin)
"Adverse events rates in untreated and resolved HCV patients treated with ICI for a variety of cancers were comparable to AEs rates reported in clinical trials for patients without HCV."
How Hepatitis C Can Affect Your Skin
"The hepatitis C virus (HCV) affects the liver and can present as other types of symptoms in the body as well, including skin rashes and lesions. These hepatitis C skin concerns may occur anywhere on your body, including your arms and legs."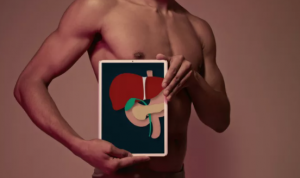 What Is Stage 4 Liver Cancer?
"Liver cancer is also sometimes called hepatoma or hepatocellular carcinoma (or HCC). There are different stages of liver cancer, with stage 4 liver cancer being the most advanced. In stage 4 liver cancer, a tumor has begun in the liver and spread to either nearby lymph nodes and/or distant lymph nodes and organs."
Lung Cancer News
Week Ending March 8, 2021
Organization Urges That Patients With Lung Cancer Worldwide Have Access to COVID-19 Vaccine
"The International Association for the Study of Lung Cancer (IASLC) recently joined more than 100 cancer centers and organizations in requesting that leading public health officials, President Joseph Biden and other members of the administration prioritize the delivery of a COVID-19 vaccine to cancer survivors and patients receiving active treatment."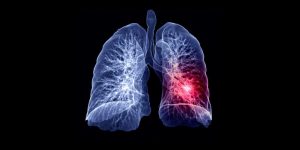 New Technology Significantly Improves Lung Cancer Surgery
"Researchers at UPMC and the University of Pittsburgh School of Medicine are using groundbreaking tumor-highlighting technology to better visualize lung cancer tissue—giving surgeons a significantly better chance of finding and removing more cancer cells than previously possible."
Merck withdraws Keytruda from SCLC indication amid FDA crackdown
"On 1 March, Merck announced the voluntary withdrawal of its Keytruda (pembrolizumab) immunotherapy for the treatment of patients with metastatic small cell lung cancer (SCLC) with disease progression on or after platinum-based chemotherapy and at least one other prior line of therapy."
Targeted Radiation Hits The Mark For Lung Cancer Patient
"Eighty-two year old Larry Sams sits next to his wife Carol in a conference room where sun streams in at the OSF Moeller Cancer Center in Alton, Illinois and declares he feels special and lucky."
Langer Discusses Trials in Multiple Settings for Non–Small Cell Lung Cancer
"Corey J. Langer, MD, director, Thoracic Oncology, Abramson Cancer Center and professor of Medicine, Hospital of the University of Pennsylvania in Philadelphia, PA, discusses treatment options for a patient with non–small cell lung cancer (NSCLC) based on the clinical trial research."
Entrectinib Impresses in Certain Lung Cancers
"A majority of patients with advanced or metastatic ROS1 fusion-positive non-small cell lung cancer (NSCLC) obtained durable remissions with the ROS1 inhibitor entrectinib (Rozlytrek), according to an updated integrated analysis of three clinical trials."
Palliative Care Considered Beneficial, Though Infrequently Used in Lung Cancer
"Nearly two-thirds of patients with epidermal growth factor receptor (EGFR) mutation-positive lung cancer do not use palliative care, despite many having a favorable opinion of it, according to the results of a patient-centered survey study presented at the 2020 World Conference on Lung Cancer in Singapore."
A new effect of red ginseng: suppression of lung cancer metastasis
"Development of KIST-maximized ginsenoside (KMxG) using a microwave processing method for ginseng that increase the trace amounts of Rk1 and Rg5. Ginsenosides Rk1 and Rg5 effectively inhibit the metastasis of lung cancer"