Donation to Caring Ambassadors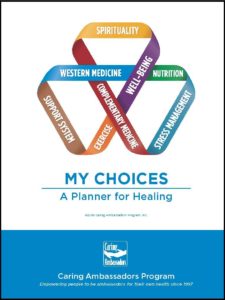 MY CHOICES: A Planner for Healing© (MY CHOICES) is a tool to help you recognize and act upon what you can control in your health care journey to achieve optimal healing, regardless of the illness you face. It contains elements of a guide book, health planner, journal, and activity book to help orient you to and plan for the journey ahead.
This planner promotes an integrative approach to health and medicine by challenging you to make informed decisions in all aspects of your health care and incorporate them into a personal health care and wellness plan.
Caring Ambassadors will send you a bound and printed copy of My Choices
© 
as a token of gratitude for any donation of $25 or more!