Sewall reminds us how we learn. We learn from those that are different.
We learn by helping others. We learn by being a part of a community.
This is what sets Sewall apart. 
Sewall also understands the importance of prioritizing the well-being of their staff. It is important to give teachers the space and time to reflect, be present, and take care of their mental health, emotional, and physical needs. The Wellness Center at Sewall focus is on supporting teachers' emotional, mental, and physical well-being.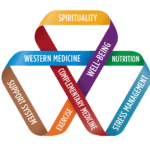 We encourage you to Think holistically. Remember, health and wellness aren't only dependent on your physical state. Join a Community of Interest to explore, discuss, and learn more about the different aspects of the health ribbon, ways to support holistic health and improve your overall health and well-being.
We invite you to start by adding a bit of gratitude to the wall. Then explore other areas of health using the links on the right. Or, send us your idea for a Community of Interest you are passionate about, or just want to learn more about, we will set up a space for you!
Why start with gratitude? 
"Robert Emmons, psychology professor and gratitude researcher at the University of California, Davis, explains that there are
two key components
of practicing gratitude:
We affirm the good things we've received
We acknowledge the role other people play in providing our lives with goodness
Most of us know it's important to express thanks to the people who help us, or silently acknowledge the things we are grateful for in life. Research has linked gratitude with a wide range of benefits, including strengthening your immune system and improving sleep patterns, feeling optimistic and experiencing more joy and pleasure, being more helpful and generous, and feeling less lonely and isolated. Interested in reaping some of these benefits? Get started with a gratitude practice." Learn more
Have fun! Share your passion and knowledge. Learn something new! Scroll top to bottom to view the entire board.
Click on the plus sign below to start. It is easy to add comments, tips, pictures, inspiration,  resources, or questions. Please add your name to the bottom of the post.
What is a Community of Interest?
A group of people interested in sharing information and discussing a particular topic that interests them.
Members are not necessarily experts or practitioners of the topic around which the CoI has formed.
The purpose of the CoI is to provide a place where people who share a common interest can go and exchange information, ask questions, and express their opinions about the topic.
Membership in a CoI is not dependent upon expertise – one only needs to be interested in the subject.
What is a Community of Practice?
A Community of Practice (CoP) is a group of people who are active practitioners.

CoP participation is not appropriate for non-practitioners.

The purpose of a CoP is to provide a way for practitioners to share tips and best practices, ask questions of their colleagues, and provide support for each other.

Membership is dependent on expertise – one should have at least some recent experience performing in the role or subject area of the CoP.