The Integrative Model of Health
Integrative Health is Whole Person Health
Your Health is determined by more than just the physical; shouldn't your healthcare be, too?
Cover up each of the circles below in order, and ask yourself:
Can I ignore this aspect of my healthcare and still heal?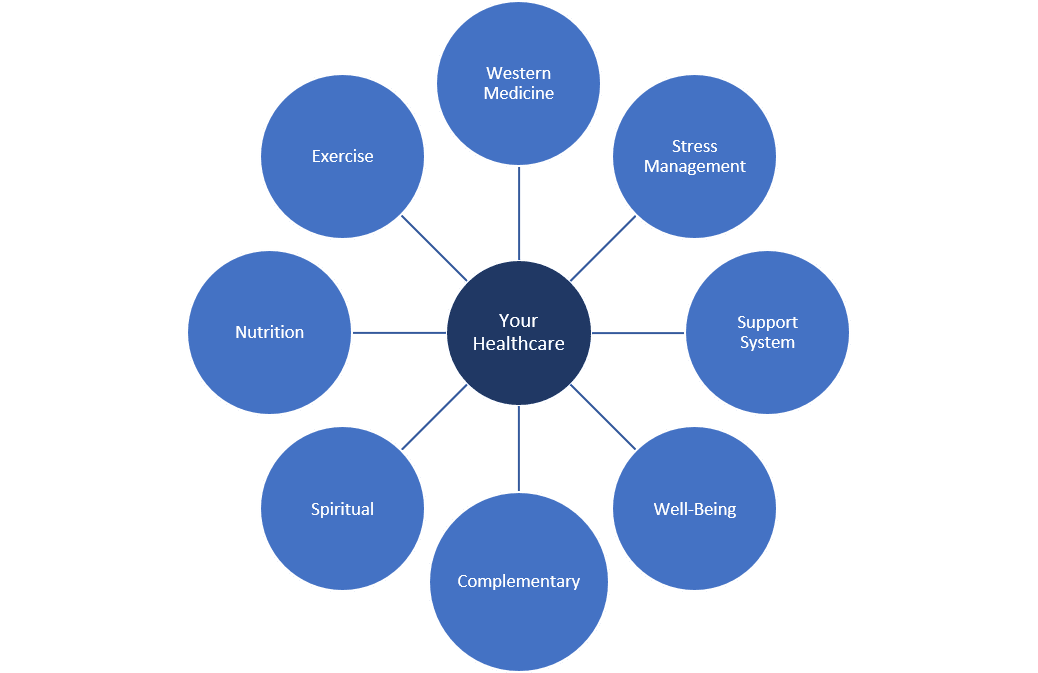 What is Integrative Medicine and Health?
Several definitions exist, but they all based upon the understanding that health is holistic:
"Health is a state of complete physical, mental and social well-being and not merely the absence of disease or infirmity." – World Health Organization"Integrative health is a state of well-being in body, mind and spirit that reflects aspects of the individual, community, and population. It is affected by: (1) individual biological factors and behaviors, social values, and public policy, (2) the physical, social, and economic environments, and (3) and integrative healthcare system that involves the active participation of the individual and the healthcare team in applying a broad spectrum of preventative and therapeutic approaches. Integrative health encourages individuals, social groups, and communities to develop ways of living that promote meaning, resilience and wellbeing across the life course." – Claudia M. Witt, MD, MBA, – Duke University Integrative Medicine
"Integrative medicine and health reaffirms the importance of the relationship between practitioner and patient, focuses on the whole person, is informed by evidence, and makes use of all appropriate therapeutic and lifestyle approaches, healthcare professionals and disciplines to achieve optimal health and healing." –Academic Consortium for Integrative Medicine and Health
This chart, provided by the Bravewell Collaborative, describes the differences between a traditional medical practice and an integrative medical practice.
Integrative medicine puts the philosophy of integrative health to practice. It is both holistic, preventative, and patient-centered in nature.  The focus of integrative health is wellness and healing; not illness. A diagnosis of a long-term disease does not have to prevent you from living well. Taking an integrative approach can help you get there.
A key piece of integrative health and medicine is the inclusion of western medicine in an individual's treatment plan and health care team. The Caring Ambassadors believes that seeking out the best medical practitioners and treatments for your long-term disease(s) should always be the first stop in your journey.
What's in a name? Read more on integrative health terms at the National Center for Complementary and Integrative Health website.  
Integrative Health & the Evidence
Integrative medicine is evidence-based, and an abundance of information exists demonstrating the power and effectiveness of integrative approaches to health. Consider just a small sample of the research supporting integrative practices and therapies that treat the whole person
(visit the Research page to access the full articles):

Evidence supports mind-body practices such as Transcendental Meditation as an effective strategy for lowering blood pressure, and meditative techniques have shown to be effective at reducing anxiety.
A comprehensive meta-analysis concluded that mind-body therapies including tai chi, meditation, and yoga reduce inflammation in the body.
A meta-analytic review found that people with strong relationships are half as likely to die prematurely as those without strong relationships.
Religious involvement and spirituality are associated with living longer, better health outcomes and better coping skills when faced with a serious illness, as well as better quality of life.
A 2011 trial found that conventional and Ayurvedic treatments for rheumatoid arthritis had similar effectiveness.
Intensive, comprehensive lifestyle changes have been shown to significantly reverse some of the effects of cardiovascular disease over a five year period, when compared to a standard-of-care treatment protocol.
Several studies have shown that acupuncture can help patients manage a variety of pain conditions.
Massage can increase health-related quality of life while decreasing pain, nausea, fatigue, anxiety and stress in cancer patients.
Perhaps you are newly diagnosed and want to give yourself the best shot of achieving healing or preventing disease progression. Or, perhaps you have been treating your disease for several years using the best therapies western medicine has to offer, but your quality of life is suffering and your disease continues to progress. No matter where you are in your journey, taking an integrative approach to your health can help by treating mind, body, and spirit to optimize health and wellness.
Discover the Evidence
The Caring Ambassadors values evidence-based information and transparency. We encourage you to perform your own research prior to adding any integrative or complementary therapies into your health or treatment regimen. One excellent place to start is the National Center for Complementary and Integrative Health's (NCCIH) website. NCCIH is a division of the National Institutes of Health (NIH) and applies scientific standards to the research of integrative and complementary health and medicine. Their "Health Topics A-Z Library" provides users with an easy platform for searching for and reviewing the evidence on a wide array of integrative and complementary health topics.
How to Take an Integrative Approach
There are medical doctors who, through self-designation or affiliation with a university integrative medicine clinic or training program, are recognized as integrative health practitioners. These providers can serve as the hub in an individual's integrative health care team and are certain to embrace an integrative and holistic approach to health. However, providers who practice in an integrative health capacity or through affiliation with an integrative health center often are not covered by insurance, Medicaid, or Medicare, meaning hefty out-of-pocket expenses for patients. Additionally, most patients with long-term diseases should be under the care of a medical provider who specializes in their disease area. While integrative health providers may practice in a specialty area, most provide primary care and general medicine services.
An integrative health practitioner can be a valuable addition to anyone's health care team. However, you don't need an integrative medicine doctor to successfully take an integrative approach to health. You can take an integrative approach to your health by incorporating appropriate complementary medicine practitioners and therapies, making lifestyle changes, and addressing your mental, social, and emotional needs. We've provided you with information on this website to help guide you through the process of exploring an integrative model of health.
Additional resources on integrative health and medicine can be found on the Healthcare Resources page.