Build Your Healthcare Team
"Most people spend more time looking for their next car than they do looking for their doctor." -Cleveland Clinic
A Health Care Team: More than just your doctor
One of the most important and proactive steps that you can take in your health care journey is assembling a health care team that will nourish and support all aspects of your health – with you at the center. Oftentimes, we think of health care providers as only the standard western medicine practitioners: like doctors, nurses, pharmacists and other providers typically found in a traditional health system or network. These providers are key players on your health care team, and they are critical to your success. However, to tip the scales most in your favor, you'll need to focus on more than just western medicine treatments and protocols. This means incorporating evidence-based practices and lifestyle modifications that will benefit all aspects of your health and well-being. Just as doctors and nurses support our physical health, a wide range of experts in other aspects of health care are available to support an integrative approach to health and healing.
Is your health care team meeting all of your health care needs?
Explore the below areas of health care to familiarize yourself with some of the types of practitioners that support holistic health. Then, answer the below questions to help you identify your health and wellness priorities and the practitioners that can help you address them.
Which aspect(s) of my health care do I need or want to address?
What professionals or expert practitioners exist to help me in addressing these health care needs?
How do I locate them? What are the organizations that credential this type of practitioner?
Resources to help you locate many of the types of providers found below can be found on the Health Care Resources page.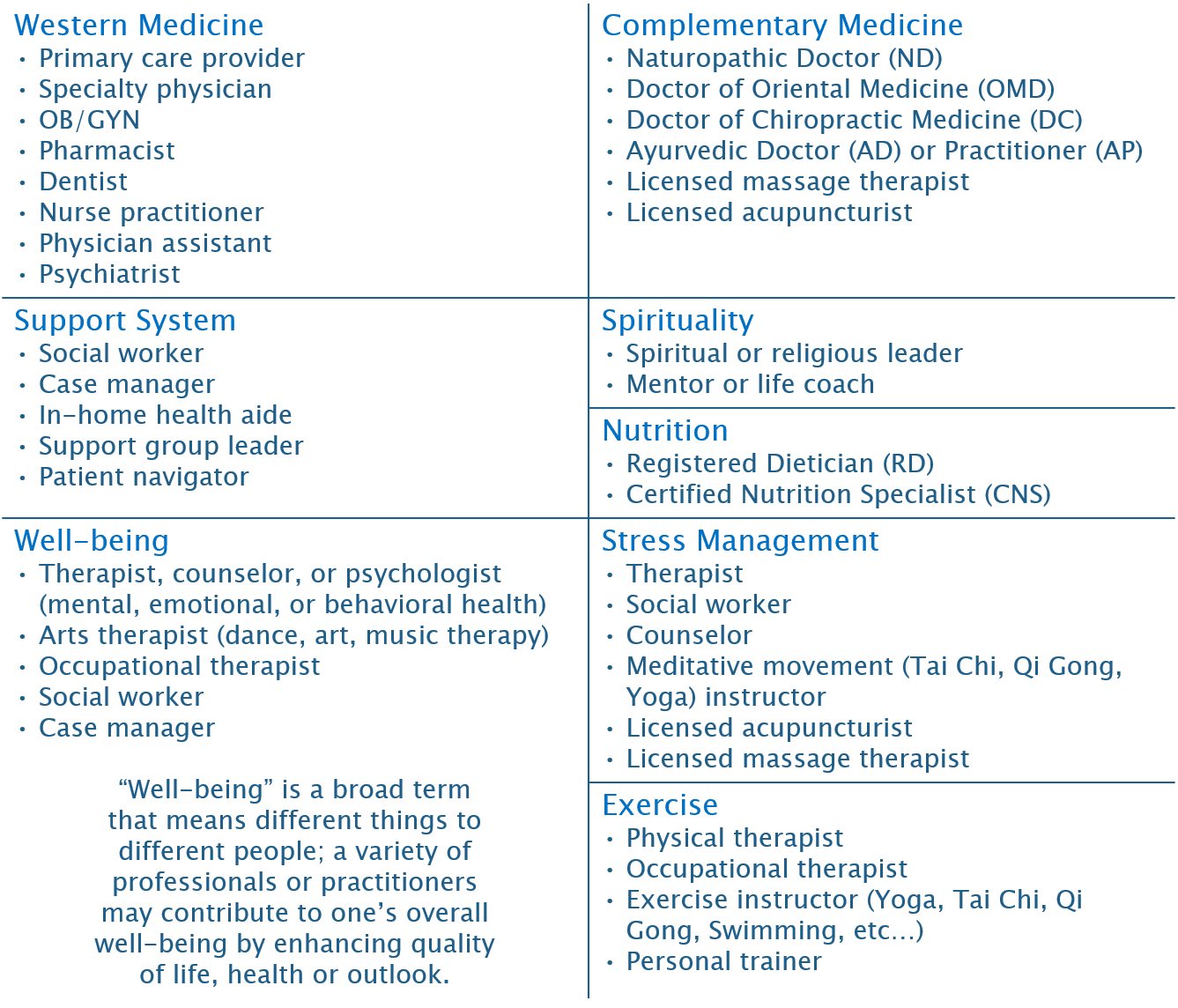 It is very important to inform each of your health care providers about all of the treatment approaches you are using. This is particularly important if you choose an integrative medicine approach that involves health care providers or treatments from several different medical providers.
Locating Health Care Providers
Your Health Care Plan: Check with your health care plan for a list of covered medical providers and mental health specialists. Some health care plans will also cover and help you locate licensed physical therapists, acupuncturists, and massage therapists.
Provider Directories: The American Medical Association's Doctor Finder website can help you find primary care or specialty physicians in your area who treat your disease(s). You can search for board certified specialty physicians at the American Board of Medical Specialties website. You can also usually locate western or complementary medical providers by visiting the provider organization's homepage (such as neurology or chiropractic medicine). A list of many of these medical organizations can be found here.
Referrals from others with similar: It can be helpful to ask for provider recommendations from others who have been diagnosed and treated for the same chronic health condition(s), especially if they are someone you trust and can relate to.
Choosing a Provider
Once you've narrowed down your provider choices, it can be helpful to set up one-on-one consultations. A consult will help you get a better sense of whether you and a provider are a good match. Prepare for you consult by making out a list of questions and the qualities that are important to you in a healthcare provider (a few of these are listed below). A consult may or may not be covered by your insurance or healthcare plan, so make sure you are clear on the costs upfront.
There are several factors to consider when choosing which healthcare providers you will include on your healthcare team. Here are just a few:
Is the provider covered by your insurance or healthcare plan? Will your provider accept your healthcare plan?
Is the provider's office conveniently located and easy to access?
Which hospital (if any) does the healthcare provider work with? Is the hospital covered by your insurance?
How can you communicate with the provider outside of appointment times? What is their availability?
What is the provider's experience treating others with the same chronic health condition(s) as you? Can they provide you with any results or outcomes?
Is the provider board certified or licensed in their field?
Did the provider use language you could understand and take time to listen to your concerns and answer your questions? What was their communication style?
What is the provider's treatment style? Do they like to tackle diseases like yours head-on, or do they typically take a more conservative 'wait and see' approach?
Will the provider support integrative treatment approaches, such as complementary therapies and lifestyle modifications, for the management of your chronic health condition(s)?
Choosing the right health care provider is a highly personal decision: instead of trying to find the 'best' provider, focus on finding the provider that is best for you!
Getting a Second Opinion
A good relationship with your healthcare provider can make a huge difference in everything from your diagnosis to the treatment and management of your disease to the healing process. It is always your right to get a second opinion or switch health care providers at any point throughout your care; in fact, most providers support patients' decisions to get a second opinion and may even provide referrals. Remember, the best health care team you can assemble will always have YOU as an active member in the center. Learn more about getting a second opinion.