The Caring Ambassadors supports individuals in gaining control of their health care, regardless of the illness they face.
We provide information, tools, and resources to help those with any chronic health condition not only manage their health care after a diagnosis, but improve their quality of life and capacity for healing. As an advocacy organization, we both fight for patient rights and work to build a new generation of patient and health care champions. Our disease specific programs for Hepatitis C and Lung Cancer have been helping people obtain the support, assistance, and information they need for over 20 years.
Check out what the Caring Ambassadors was up to in 2018 and how we're making an impact
Our 2018 Annual Report is now available
Caring Ambassadors is seeking focus group participants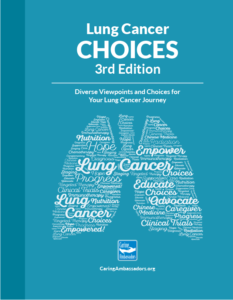 Have you or a loved one been diagnosed
with lung cancer? Your opinion is valuable to us.
You may be eligible for a paid, online focus group opportunity.
Week Ending March 18, 2019
Exercise seems to help alleviate depression, but not for everybody
"I hear it often: A friend swears that her running practice staves off bouts of low spirits. Another says going to the gym before work keeps him mentally steady."
Study reveals how motivation affects nutrition and diet
"New research led by the University of East Anglia (UEA) suggests that people with a positive attitude are more likely to eat healthily."
Nutrient-dense foods list
"Nutrient-dense foods are those that have a high nutrient content for the number of calories that they contain. By including nutrient-dense foods in their diet, people can increase the amount of nutrition that they get per calorie."
Exercise vs. Drugs to Treat High Blood Pressure and Reduce Fat
"Exercise can lower blood pressure and reduce visceral body fat at least as effectively as many common prescription drugs, two new reviews report."
Your Environment Is Cleaner. Your Immune System Has Never Been So Unprepared.
"A century ago, British scientists suggested a link between increased hygiene and allergic conditions — the first hint that our immune systems are becoming improperly "trained."
Green tea cuts obesity, health risks in mice
"Mice fed a diet of 2% green tea extract fared far better than those that ate a diet without it, a finding that has prompted an upcoming study of green tea's potential benefits in people at high risk of diabetes and heart disease. The benefits seen in the new study, published in the Journal of Nutritional Biochemistry, appear to stem from improved gut health, including more beneficial microbes in the intestines of the mice and less permeability in the intestinal wall—a condition typically called "leaky gut" in humans."
Dr. Andrew Weil Commits $15 million to UA Center for Integrative Medicine
"The University of Arizona's integrative medicine center received a $15 million commitment Tuesday afternoon, and has a new name thanks to Andrew Weil, M.D."

Best Diets for Preserving Brain Health Identified
"High adherence to a Mediterranean or to A Priori Diet Quality Score (APDQS) diet is associated with better cognitive skills in midlife, whereas adherence to the DASH diet, which is designed to lower blood pressure, is not."
Mindfulness could be a key to recovering from substance abuse, USC experts say
"Initial studies with young adults show dramatic drops in stress, cravings, impulsivity and risk of relapse after practicing mindfulness."