CARING AMBASSADORS PROGRAM
The Caring Ambassadors Program supports individuals in gaining control of their health care, regardless of the illness they face. Remember, this is your JOURNEY; these are your CHOICES. Healing is possible; how you achieve it is up to you.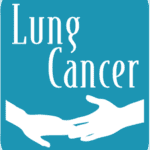 LUNG CANCER PROGRAM
The Caring Ambassadors Lung Cancer Program Empowers patients and providers with access to free educational materials, and resources; Educates communities about the importance of screening and to share current information with patients and their families; and Advocates for access to screening and treatment for lung cancer for all communities.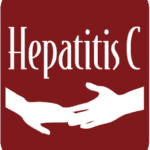 HEPATITIS C PROGRAM
The Caring Ambassadors Hepatitis C Program uses a unique approach in our work to address the elimination of viral hepatitis and specifically hepatitis C. We are honored to serve the community to help eliminate the largest infectious disease outbreak of our time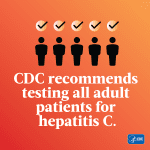 Outreach in Action
Caring Ambassadors Program sponsored the Health Pavilion at the Waterfront Blues Festival in Portland for 12 years. We provided free hepatitis C testing to over 3500 people in those years, identified 197 people living with the virus, and educated hundreds of thousands.
What we do
A Few of Our Services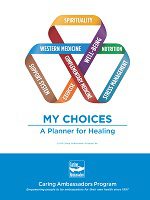 MY CHOICES© is a tool to help you recognize and act upon what you can control in your health care journey to achieve optimal healing, regardless of the illness you face. It contains elements of a guide book, health planner, journal, and activity book to help orient you to and plan for the journey ahead.
A trilogy of books with comprehensive lung cancer information, a guide for caregivers, and a healing planner to empower people anywhere in their journey. Caring Ambassadors Lung Cancer Program is pleased to announce that we have received support from our corporate partners to offer free printed copies of our books (while supplies last)
What Drives Us
Our Mission
To improve the lives of patients and communities by empowering and educating them to be advocates for their own health.
Weekly News Update
My Choices© Update

Week Ending November 21, 2023
Surveys show providers and patients increasingly endorse 'whole-person' integrative care
"It has taken decades, but with each passing year, integrative health care is marching more squarely into the mainstream of American medicine. Countless millions of patients have long embraced the benefits of complementary, nonpharmacological approaches to relieve chronic pain and prevent disease, and the good news is that practitioners are increasingly seeing the benefits and incorporating them."
Roswell Park launches advanced, high-speed blood cancer test
"A new Roswell Park Comprehensive Cancer Center innovation has just gone global. Called PanHeme, it's a test that uses next-generation gene sequencing technology to diagnose blood cancers like leukemia, lymphoma and multiple myeloma more precisely — identifying mutations in hundreds of genes — in under 72 hours, a dramatic improvement from the three- to four-week wait time for current molecular testing."
Acupuncture and Massage Improve Pain for Patients With Advanced Cancer
"Both acupuncture and massage therapy relieved pain, enabled reduced opioid use and improved fatigue, insomnia and quality of life for people with advanced cancer, according to findings from a randomized clinical trial published in JAMA Network Open."
Eliminate holiday season stress with these simple mindfulness strategies
"Don't let Uncle Larry ruin another family holiday"
"Mindfulness strategies aren't designed to erase your problems. However, these methods can help you cope with issues, including during the high-stress holidays. Mediative walks, practicing gratitude, and volunteering are ways to shift negative thought patterns to more positive ones. Setting boundaries with yourself and others may help you prevent triggering situations in the first place. When all else fails, return to the breath. Simply inhaling and exhaling until you feel calmer can be a genuine mood-booster."
Over 50% of young people are 'significantly' lonely, according to a recent survey. A mindfulness expert believes he knows why
"More technology doesn't equal more sense of connection. Way.com looks into a new survey conducted by Gallup and Meta that reveals young people are experiencing higher levels of loneliness than ever — with 1 in 4 suffering from bouts of feeling fairly or very lonely. Data was collected from respondents ages 15 and up from over 142 countries from June 2022 through February 2023."
Governor Hochul Announces New Indoor Food Production System in East Buffalo
"Governor Kathy Hochul today announced a new indoor food production container to advance urban farming and increase awareness about hydroponic gardening, sustainability and nutrition for underserved New Yorkers in East Buffalo. Supported by the New York Power Authority, the facility will grow vegetables and herbs year-round in an indoor environment—with no soil. Produce will be distributed to the community and the learnings from the low-energy farming methods will help New York State achieve its clean energy goals and reduce greenhouse gas emissions associated with food production."
Exercise, Vegetable Consumption Linked to Better Quality of Life in Patients with Gout
"Gout-specific health-related quality of life is impacted by lifestyle choices including vegetable consumption and regular exercise, according to findings from a recent study. Results showed a negative linear correlation between dietary habits and exercise with the gout concern during attack subscale of the Gout Impact Scale (GIS), further revealing vegetable consumption was associated with well-being during attack and exercise was associated with overall gout concern."
Hidden belly fat in midlife linked to Alzheimer's disease
"Middle-aged adults who have visceral fat surrounding their internal organs in their belly may be at higher risk of developing Alzheimer's disease. Having such fat deposits could trigger changes in the brain related to Alzheimer's up to 15 years before symptoms of the neurological disease appear — and as early as age 50 — according to research presented at the annual meeting of the Radiological Society of North America."
Some doctors have stopped recommending weight loss. Here's why
"In an attempt to curb misdiagnosis or health care avoidance, some providers are encouraging overweight patients to exercise and eat healthily without addressing weight at all. Other medical professionals think it's important to talk about."
Hepatitis C News Update
Week Ending November 27, 2023
There's A Real Chance To Stop This Miserable, Fatal Infection
"Dying from hepatitis C is a notoriously miserable way to go. The virus attacks your liver ― in many cases, destroying its ability to make proteins and filter blood. You might not notice at first, because it can inflict damage gradually and "silently" until finally you start to feel symptoms that could include fatigue, jaundice, mental disorientation, severe itching and joint pain. Your belly could fill up with so much fluid that doctors have to drain it, while gastrointestinal difficulties might have you vomiting up blood. This could go on for months or years, and eventually your liver could fail completely. A transplant might save you, but only if you can get one, and only if it works."
Combination Hepatitis C Therapy Efficacious in Those With Previously Untreated Acute Infection
"An 8-week course of glecaprevir/pibrentasvir (G/P) treatment was a safe and effective treatment for adults and adolescents with previously untreated acute hepatitis C virus (HCV) infection, according to a study presented at The Liver Meeting 2023 from the American Association for the Study of Liver Diseases. Therapy demonstrated a virologic response at posttreatment week 12 (SVR12) rate, which was superior to the prior efficacy threshold."
Hep C: More than 70% of Bristolians 'know nothing' of virus
"A man diagnosed with Hepatitis C says he is proof it can be treated and cured as he urges others to get tested. Keith Hathaway, 48, from Bristol, is supporting European Testing Week (ETW) – a health initiative that aims to increase blood testing efforts."
New York State Department of Health Releases Hepatitis B and C Annual Report
"ALBANY, N.Y. (November 22, 2023) – The New York State Department of Health today released the Hepatitis B and C Annual Report 2022, which highlights decreases in newly reported acute hepatitis B cases, hepatitis C cases, and acute hepatitis C cases from 2021 to 2022. "Hepatitis C can be a life-threatening disease, yet I am thankful this disease is treatable and curable," State Health Commissioner Dr. James McDonald said. "All New Yorkers should talk to their doctors about their risk and getting tested and treated if they are determined to have this disease." From 2021 to 2022, newly reported acute hepatitis B cases declined 21 percent, newly reported chronic hepatitis C cases declined 15 percent, and newly reported acute hepatitis C cases declined 9 percent."
Second Generation DAA Agents Have Increased Hep C Treatment Globally
"An analysis of global data is providing hepatologists and other care providers insight into how the introduction of second-generation direct-acting antivirals has impacted the treatment of hepatitis C virus. Presented at The Liver Meeting 2023 from the American Association for the Study of Liver Diseases, results of the study demonstrate the addition of next-generation direct-acting antivirals has contributed to increased uptake of hepatitis C treatments, with this impact most apparent in low- and middle-income countries."
COVID-19 Vaccine Safe for Patients with Hepatitis C Virus-Related Liver Disease
"A new study found the COVID-19 vaccine is safe for patients with Hepatitis C Virus-Related Liver Disease. Patients with severe liver disease infected by COVID-19, caused by a severe acute respiratory syndrome coronavirus 2 (SARS-CoV-2) have high death rates. A recent study, examining the prevalence and outcome of chronic hepatitis C patients admitted with COVID-19, found the mortality rate of patients with hepatic diseases infected by COVID-19 was 54.5%. Patients with HCV had a morality rate of 46.4%, and patients without HCV had a morality rate of 73.3%."
Pharmacists Vital for Ensuring Hepatitis C Is Cured
"Patients with chronic hepatitis C virus (HCV) experience severe morbidity and mortality, including potentially fatal cirrhosis or liver cancer (SN Compr Clin Med 2020;2[12]:2808-2815). Although more than 95% of HCV can be cured with direct-acting antivirals (DAAs), confirming effective treatment requires a test for sustained virologic response (SVR) at least 12 weeks after completion of therapy, and many patients do not complete this testing regimen."
Lung Cancer News

Week Ending November 27, 2023
A veteran's journey through lung cancer
"Jake White, an Army veteran who recently battled lung cancer, is living proof of the vital role that cancer screening and early detection plays in saving lives. White's 40-year smoking history, coupled with a family history of cancer, prompted his Veterans Administration health care provider to recommend regular CT scans of his lungs. This proactive approach proved instrumental in diagnosing his illness at a treatable stage."
Lung Cancer Survivor Tells Patients 'Stay Positive, Put Yourself in Good Hands'
"Diane Messick, a three-time lung cancer survivor, understands very well the importance of optimism and trust while navigating a cancer journey, particularly one that entails multiple instances of disease."
Grateful Patient Survives Lung Cancer Due to Early Detection
""UConn is my hospital of choice, and I cannot say enough about Dr. Ibrahim and his team." – Chris Ambrose
Chris Ambrose says smoking was the worst mistake of his life, but he is grateful that he has survived lung cancer twice because of early detection and screening."
Discoverers of Groundbreaking New Lung Cancer Treatment Honored as Heroes in Drug Discovery
November 2023 – "Drew University students and faculty recently attended a lecture by Dr. Sheri Moores and Dr. Sylvie Laquerre describing the development of Amivantamab, a revolutionary new treatment for lung cancer."
Lung Cancer Treatment Research Enters a New Era
"Better outcomes were achieved with combinations of experimental new drugs targeting common and rare tumour mutations."
UPMC physician: Don't let cancer take your breath away
"There are many things from everyday life that people take for granted – their loved ones, electricity, access to nature, and even breathing. November is Lung Cancer Awareness Month, and it's important to learn about the ways in which you can reduce your chances of developing the disease."
Genome study unveils genetic ties between cannabis use disorder and lung cancer risk
"In a recent study published in Nature Genetics, researchers conducted a genome-wide association study (GWAS) to gain novel insights into the pathophysiology of cannabis use disorder and public health concerns associated with the disorder."
New study shows bivalent COVID-19 booster increases antibody response in lung cancer patients
"In a recent study published in npj Vaccines, researchers reported that severe acute respiratory syndrome coronavirus 2 (SARS-CoV-2) BA.5 bivalent booster dose enhanced neutralization of Omicron XBB (sub)variants in non-small cell lung cancer (NSCLC) patients."
Immunotherapy drug shows promise for treating non-small cell lung cancer
"A new study is reporting on the benefits of an immune checkpoint inhibitor drug in treating the most common form of lung cancer."
Video:
Health News You Can Use: Precision Oncology for Lung Cancer
"According to the American Cancer Society, lung cancer is the second most common cancer in both men and women in the U.S. Saint Luke's screens over 2,000 patients yearly for lung cancer and has a unique Center for Precision Oncology to help patients through their cancer diagnosis."
"Lung Cancer Is a Really Sneaky Beast": Why patients need to remain vigilant with scans, even while dealing with "scanxiety."
"As part of its Speaking Out® video series, CURE® spoke with Dusty Joy Donaldson of LiveLung/The Dusty Joy Foundation and Lung Cancer Action Network about her lung cancer journey and the importance of scans."
Dr Mark Socinski Discusses the Impacts of Immunotherapy on Lung Cancer Outcomes
"Mark A. Socinski, MD, executive director at AdventHealth Cancer Institute, discussed the impacts of immunotherapy on outcomes for certain patients with non–small cell lung cancer."
OUR SYMBOL
All aspects of wellness are inextricably intertwined. Explore the loops of the Integrative Health Ribbon to discover how integrative approaches can enhance your well-being and help you heal, no matter your diagnosis.
Remember, this is your JOURNEY; these are your CHOICES. Healing is possible; how you achieve it is up to you.