Tools created by Caring Ambassadors Program:
My Choices: A Planner for Healing©
A tool for healing when faced with chronic health conditions
The second version of My Choices. A Planner for Healing (My Choices) is now available for download! Will you help make it great? The Caring Ambassadors is still in the process of developing content and improving the planner's user friendliness. We'd love to hear your feedback and suggestions: What works? What doesn't? How can we improve My Choices to help you and others learn, live well, and heal?
My Plan
A personal integrative health plan to help you organize choices you have made related to all aspects of your health care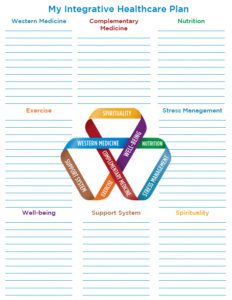 Once you've taken the first steps to gain control over your health care after your diagnosis, it is important to spend some time establishing goals for the road ahead. When you've determined these goals, the question becomes: how do you work towards them? At that point, mapping out a personal health care plan can be incredibly helpful.
Action Plan
Break up larger goals into smaller actions  that can realistically be achieved to help you move forward on your healing  journey
"What you get by achieving your goals is not as important as what you become by achieving your goals." – Henry David Thoreau
My Integrative Health care Team reference sheet
Record the names and contact information for your practitioners from all areas of healthcare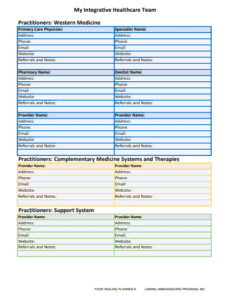 My Medications and Supplements Reference Sheet
Track and record all medications you are taking, including prescriptions, over the counter drugs, supplements and vitamins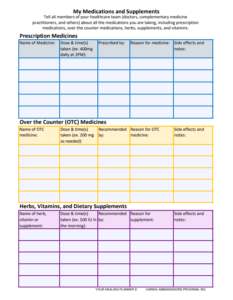 Food Rules
Tools created by others:
*Although some of these tools were initially developed for specific patient populations, most of the information and skills they provide can be used by any patient with a chronic health condition.
Health History and Intake Questionnaire
A generic health history intake questionnaire to keep on file and provide to all healthcare practitioners 
Self-Advocacy and Health Care Management Tools